Manufacturing Partner
Datre Corporation Ltd. located at Falta, West Bengal, India having an integrated state-of-the art foundry and machine shop, for manufacturing and machining various types of castings in stainless steel, alloy steel & cast steel.
Foundry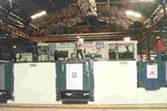 Datre Corporation Ltd. has a Fully equipped modern automated Foundry meeting International standards with a capacity of 7000 MT/annum, producing Castings from 2 Kg to 1.5 MT single piece.
Three medium frequency, dual track coreless induction melting furnace with the, flexibility to operate low volume alloy steel and stainless steel casting.
Furnaces are equipped with Eletronic Load cells, for accurate measurement of weight.
Furnaces are computer controlled for accurate operation.
Portable immersion Pyrometer for further ensuring accurate temperature measurement.
Pattern Making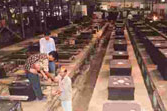 Wooden, Aluminium and Araldite Patterns with Computer Aided Methoding.
Moulding
Automatic no-bake moulding line using Resin system for its moulds and Coreshooter with Cold Box process for accurate and fast core output.
Micro-processor controlled continuous mixtures provides for accurate operation and input to the moulding line. Dimensions of Moulds are closely controlled for producing Casting with accurate weights.
Microprocessor controlled coreshooters.
Finishing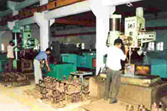 Micro - Processor controlled electric heat treatment furnaces with PID controls for precise temperature control, within ± 20C
Shot Blasting
Impeller type shot blasting machine to produce a casting surface according to MSS - SP 55 Standard.
Machine Shop
CNC Lathe for machining critical dimensions.
CNC Drilling Machines, Lathes, Turret Lathes, Radial Drilling & Other essential machines to facilitate proper machining.